David Masters is a creative leader who is passionate about helping brands articulate their vision and stand out in the marketplace. He thrives on creative challenges and the process of discovering innovative design solutions to drive brand recognition.

David is a lifelong artist and designer who can recall creating assemblage installations in his parents' backyard as a young boy. He received his BFA from the School of the Art Institute of Chicago in 2007 and his MFA from Kent State University in 2013. He has worked with clients both nationally and internationally and has accrued over 15 years of professional design experience.

In addition to his work for his clients, David continues to pursue a fine art studio practice. His work has been exhibited both nationally and internationally and is currently held in private and public collections. David's well-rounded creative background serves to broaden his ability to meet the unique creative needs of a diverse range of clientele.

David lives with his wife, son, and two daughters in Oregon.

A note on my creative process
Among the many influential ideas and concepts that I learned in grad school, I always come back to The Triangle.
The concept of the The Triangle is a simple one. We were taught that The Triangle was made up of three distinct sides: "Concept," "Execution," and "Subject Matter."
The illustration positions "Concept" as the climax of any artistic endeavor—the central figurehead in this triadic relationship.However, like any strong system, the whole is greater than the sum of its parts; "Execution" is influenced by "Subject Matter," which is governed by "Concept," which in turn is broadcast by "Execution" – and so on and so on.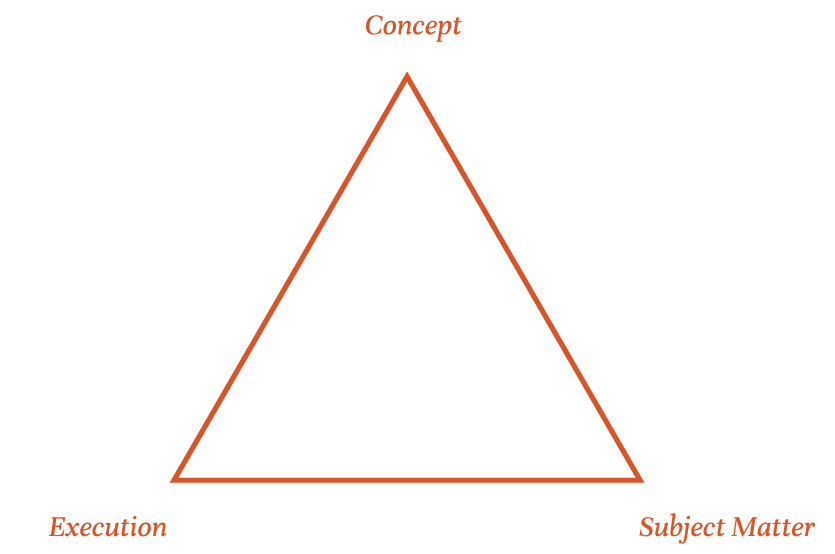 So, what? What could possibly make art theory relevant to a business owner? How does this affect the bottom line and shape my customer base?
In a world where the average consumer is bombarded by media on a momentary basis (And I mean a lot of media —most adults now consume more than 11 hours of media every day), it's tougher than ever for new brands to stand out.
So, how do we attack this problem as creatives? How do we leverage our skills to design something that stands out in a sea of static? Let's jump back to The Triangle. Most creatives focus far too much on either "Execution" or "Subject Matter," and make little to no room for harmony among these two so that they in turn point to the all-important "Concept."
I like to tell clients that I build and protect the one asset that you can keep from depreciating (And no, it's not your workforce or your supply chain).
It's your brand that will withstand the test of time.
It's your brand that builds loyalty with your customers and keeps them coming back again and again. If this is true—and I'll fall on this sword— then the work our team creates cannot simply be about pretty colors and pleasing shapes— no, to be impactful, it must be first and foremost grounded in strong concept.
Adversely, effect-driven art lacks substance. It doesn't support the original concept, and as a business trying to establish a brand, it puts the focus more on the "skills" of the designer, rather than on creating a memorable and versatile brand image that will impact the way people see your brand, and that will ultimately sell.
As a creative, I do not produce effect-driven art.